God Is Dead, Now Zen Is the Only Living Truth <2>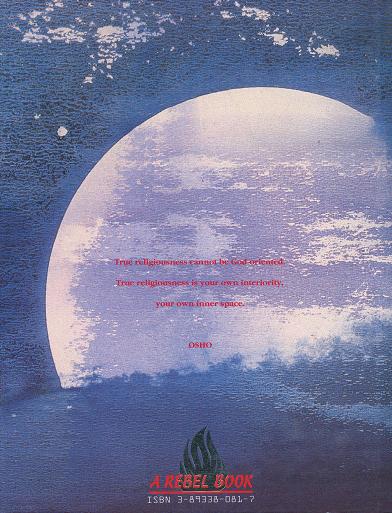 God Is Dead,Now Zen Is the Only Living Truth <2>
Osho January 1997 Rebel Pub、Hardcover p304
★★★★★
Osho最後のZENシリーズ目次 
1)Zen is the method to go beyond mind. So we will be discussing God and Zen together. God has to be negated, and Zen has to be planted deep in your being. The lie has to be destroyed and the truth has to be revealed. That's why I have chosen God and Zen together. God is a lie, Zen is a truth. P17
2)Enlightenment is not of the mind, it is the fragrance of no-mind. No-mind is not based on any character. Just the contrary: all character arises out of the clarity of no-mind. So it is not imposed from outside as a discipline. It arises as a spontaneous response. You simply cannot do any evil. It is not a question of your deciding not to do evil, you simply cannot do it. You are so full of light, how can you behave like a blind man? You are so full of light, how can you behave like a man stumbling in darkness?
So character arises, wisdom arises, and a thousand other things: blissfulness, ecstasy, benediction, compassion. There is no end; more and more flowers go on flowering.p55
3)The sutra, the SANDOKAI, second part:
OUR
BELOVED MASTER,
SEKITO WROTE: CAUSE AND EFFECT BOTH NECESSARILY DERIVE FROM THE GREAT REALITY.
Everything derives from the great reality. There is no other reality, there is only one reality, the great reality. Outside, inside are just two sides of this great reality. Every cause, every effect, necessarily comes from this great reality.
THE WORDS 'HIGH' AND 'LOW' ARE USED RELATIVELY.
Don't take any cognizance of those words. They are very relative, but even your so-called great people suffer from strange ideas.p234
4)Buson wrote:
I GROW OLD - SWEET BIRD, YOU VANISH INTO AUTUMN TWILIGHT.
He is saying, "I grow old, and just as a sweet bird vanishes into the autumn twilight far away, you see it to a certain point and then it goes into the blue sky..." He is saying, "I am also growing old, sweet bird, my autumn twilight is going to come soon. I will also disappear into the blueness of existence."
These are the words of someone who knows.
Death is a door to the divine, death is a door to the deepest mystery of existence. You just have to disappear. You are the only problem, you are the only barrier. Just drop that problem, drop that barrier, and all is just ecstasy and pure bliss.p238
to be continued
2021/04/10 05)進の巻 | 固定リンク | 0
Tweet